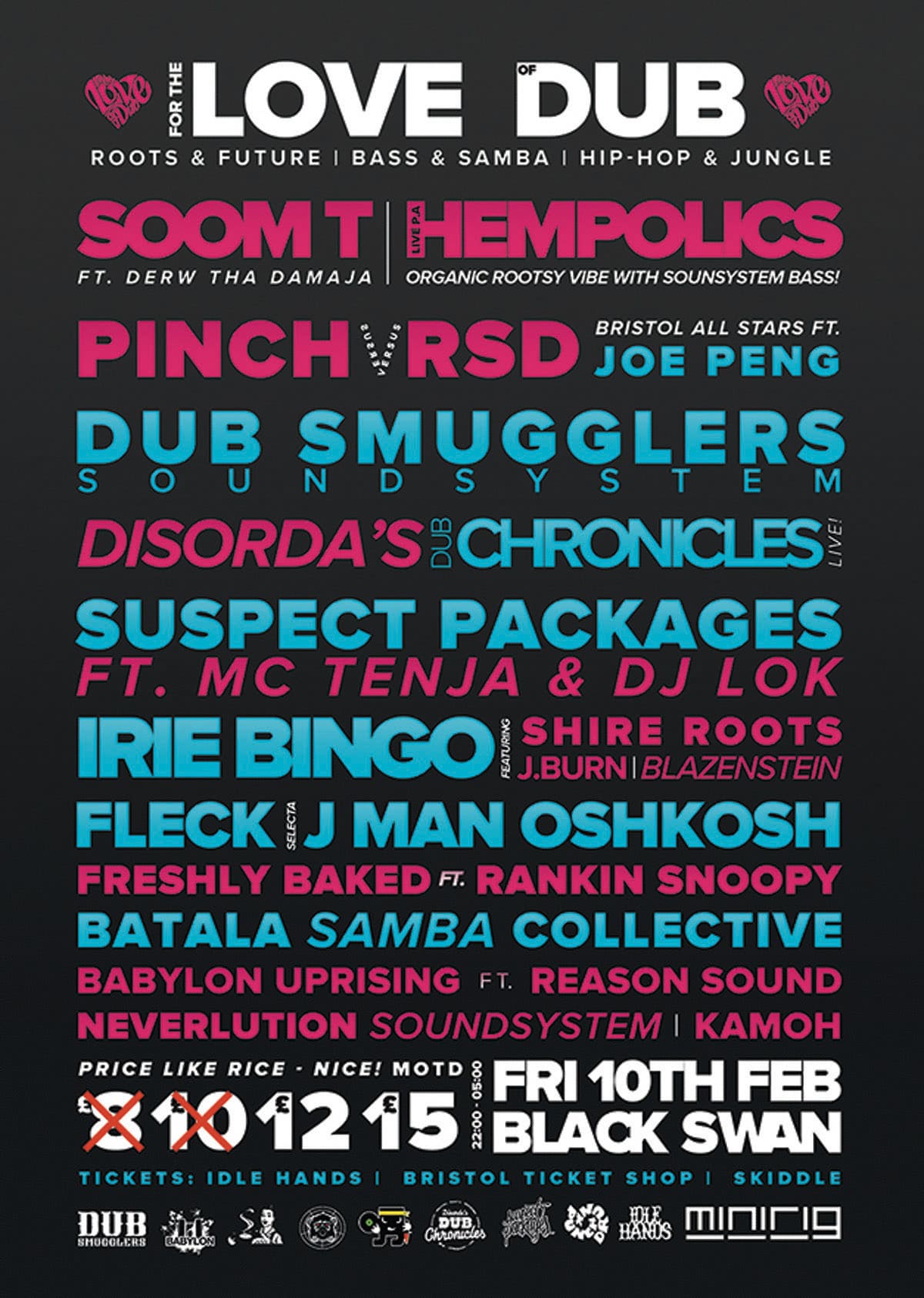 Are you ready for Love of Dub 2017?
Love of Dub return to the Black Swan celebrating 5 years of ramajam, roadblock sessions in a place we are proud to call home. Smiles, Samosa's & Soundsystem make a top draw. Festival décor & vibes galore!
Remaining tickets available from Bristol Ticket Shop & Idle Hands:
To celebrate we have a special Minirig Mixtape ft Soom T, Derw Tha Damaja & Shire Roots
Fresh from the Love of Dub HQ, Derw tha Damaja brings a scorching selection of acetate & vinyl records, straight to your Minirig speaker. Featuring ruff & ready vocals from everyone's favourite Glaswegian MC, Soom T, plus a special guest appearance from Irie Bingo's finest, Shire Roots.
High Locks – Pablo Black (Studio One org 45)
Love to Sing – The Hempolics (Sharkfree records 45)
Travelling + Dub – Burning Spear (Spear 45)
Red Blood – Vin Gorden (Selection Train Records 45)
Black Star Liner + Dub – Johnny Osborne (Roots Garden Records Showcase LP)
Puff That Weed – Soom T (Dubplate)
Spread Out & Scatter ft Christina Flores & Soom T (Junior Ras Dubplate 45)
Shank I Shek – Bobby Ellis (Treasure Isle 12")
One Love – Bob Marley (Studio One 45)
Your Loves A Game - Dave Barker (Burru Records 45)
Boom – Soom T & Monkey Marc (Bullets over Babylon LP)
Girls Girls Girls – Soom T (Dubplate)
Forward Never Back – Shire Roots (Dubplate) 
Storms Come ft. Marina P & Solo Banton – Soom T (Bullets Over Babylon LP)
Clint Riddim ft Soom T – Bareroots (Dubplate)
Ninja Mi Ninja – Ninja Man (Downsound Records)