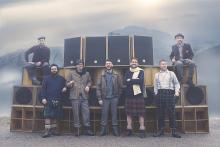 This lovingly crafted mixtape from Scotland's Sound System Champions Mungos Hi Fi has been put together with their longstanding friend and collaborator, the MC and songwriter Tom Spirals. It features dubs, classics and some unreleased material never heard before.
Tracklisting
Mungo's Hi Fi Ft Johnny Clarke - Rain Keeps Falling
Tom Spirals - Keep It Together
Mungo's Hi Fi Ft Marina P - Troubles And Worries
Mungo's Hi Fi Ft Kenny Knots - Don't Let Them
Tom Spirals - 109.
Mr Williamz - My Heavenz (Prod Chief Rockas)
Tom Spirals - Anxiety
Mungo's Hi Fi Ft Johnny Osbourne And Pupa Jim - International Snooze
Tom Spirals - What About Them
Mungo's Hi Fi Ft Marina P - Wouldn't It Be Something
Tom Spirals - Abacus
Jr Reid - Chanting Dubplate (Mungo's Hi Fi Prod)
Tom Spirals - Provide The Dance
Mungo's Hi Fi Ft Danman - Love Jah
Tom Spirals - Feel Alright
Richie Spice - Youts Dem Cold Dubplate
Tom Spirals - Mr Trillionaire
Mouse Outfit Ft Sparkz & Dubbul O - Who Gwan Test (Mungo's Hi Fi Remix)
Tom Spirals - Cut To The Chase