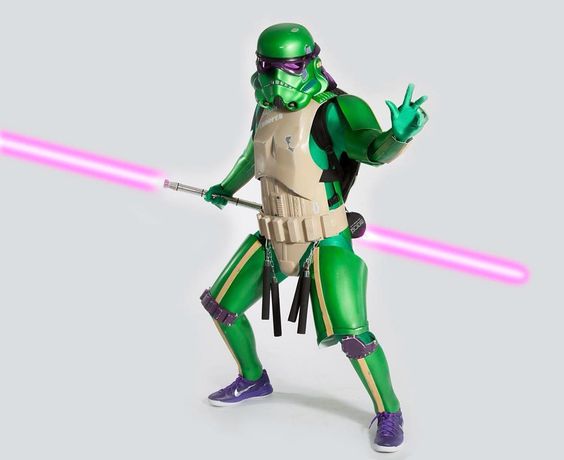 We caught up with Evan Davies, U.K. Costumer AKA "The Ninja Trooper" to find out how he created this unique character.
Instagram: @ninja_trooper
Facebook: @ninjatrooper
Twitter: Ninja Trooper @evanrhysdavies1
YouTube: Ninja Trooper
"The whole costuming thing started completely by accident… I teach in an independent school which caters for boys on the autistic spectrum, from ages 6 to 18. A lot of our pupils are extremely interested in Star Wars (and I am too!) I always wanted to get a Storm Trooper costume which was identical to the film I enjoyed watching so much when I was growing up. Achieving this goal was always a distant dream because of the amount of money these cost. However, when my wife's auntie sadly became extremely ill and passed away, she left us some money and my wife agreed I was able to use some of it to buy a Storm Trooper costume. Once the costume was purchased I was able to wear the armour into work which was well received by all the pupils in the school. Following this my plan was to buy a mannequin and display my Storm Trooper at home, but before that I wanted to wear it out in public at a local convention and really get into the sprit cosplay life.
The reception again from this was amazing and I was really hooked on costuming and wanted to take it to the next level. There is a guy in America called Eugene Brown, better known as the Hip Hip Trooper, (he's the guy with the red Adidas Storm Trooper costume, who plays tune from his bumpbox.) The idea behind his costume was from growing up he loved Hip Hop and Star Wars. Growing up I loved Teenage Mutant Ninja Turtles and Star Wars, my favourite characters being Donatello and a Storm Trooper. The only thing I wanted to change was not carrying around a big bulky sound system, (plus I didn't want to copy Hip Hop Trooper totally!) Some friends of mine had just purchased a Minirig speaker, instantly I thought it would be an excellent idea to hide these small powerful speakers in the turtle's shell. Another small change was instead of playing Hip Hop, I could make it more current and play U.K grime.
Last year was the first year of doing this, in this time I have attended around 25 conventions all over the U.K and one in the U.S. I have also been a guest cosplayer at events and have been invited to 4 more this year with requests coming through weekly, although the publicity is slow through Instagram and Facebook, the crowds seem to love the concept of the Ninja Trooper."
Look out for the Ninja Trooper at the following upcoming conventions:
February, 2017
11th MCM Midland comic con
17th Geek, Dreamland, Margate
25th Charity Ball, Northampton
April, 2017
1st Medway comic con
9th Stars and Cars 2017
22nd Ox-con
28th Legoland Star Wars
May, 2017
7th Folkestone Comic con
26th MCM London
Ninja Trooper playlist:
• Battle without honor or humanity – Tomoyasu Hotel
• Just too good to be green – Pro Green
• Make peace not War- Skepta
• Dude – Lethal Bizzle
• German whip – Meridian Dan
• Fix up, look sharp – Dizzee Rascal
• Heatwave – Wiley
• Rolex Sweep – Skepta
• Hello Hi – Big Narstie
• Wobble – Lethal Bizzle
• Fester Skank – Lethal Bizzle
• Stand up tall – Dizzee
• Wot do u call it? - Wiley
• Where are you? - Lady Leshurr
• I don't need a reason – Dizzee
• Pass Out – Tiny Tempah
• Reload that – Jaguar Skills
And the list goes on………