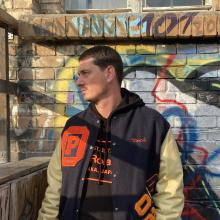 45 mins of fresh UKG with tunes from Prozac, Mattik, Sammy Virji, Richard Wright, Daffy, Silva Bumpa and PJ Bridger.
With his refix series "Pj Dubs", the UK born, Berlin-based producer, DJ and product specialist at Roland Europe has turned the scene on its head in no time and with one of the most exciting tracks of 2021, his "Rhythm and Gash Refix" earned himself a nomination for the DJ Mag Best Of British Awards 2021 (Best Remix/Edit).
Recently he has put out edits and original productions on labels such as Time Is Now, +98 Records, ec2a, DimSum Records and 3 Feet deep records. He has also dropped mixes on RinseFM, Apple Music and SWU.
PJ's tracks have become a staple in many DIs' sets, not just in the UKG scene, seeing, support from legendary Dis such as DJ EZ, Oneman, Fourtet, Om Unit, My Nu Leng, Yung Singh, Avalon Emerson, Ross from Friends and many more.