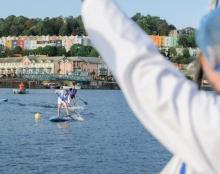 Frank water had a blast down at the Bristol Harbour, for their annual Stand Up For Safe Water Paddle boarding Event!
All funds raised will help bring safe, clean water, handwashing and good hygiene to communities across India and Nepal.
Massive congratulations again to the winning team @kinneirdufort, the 'Spice Boys' from @bartingredients who came a very close second, and 'Lost in Atlantis' from @simecatlantis who took third place and who ALSO won the fancy dress award with their Brunel theme, including top hats and cigars! 
Well done everyone! 
Check out more on this event here!