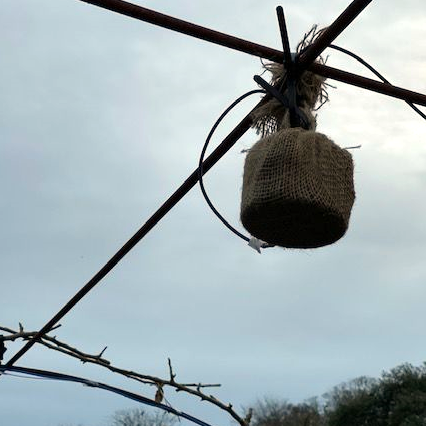 During December and January, internationally renowned light artist Ulf Pedersen returned to The Lost Gardens of Heligan to reveal the night time magic of Heligan's historic plantings in the 'Art of Illumination' in this year's 'Heligan by Night' event.
Ulf has worked to create a unique selection of thought-provoking projections that will come to life across the hedges and walls of Heligan's historic landscape. Capturing the joyous occasion of the pineapple harvest and the activity of Heligan's native black bees amongst other garden moments, the projections are set to bring the working garden to life at night.
Explore an after dark Lost Gardens and delight in the incredible textures, colours and atmosphere created by Pedersen's thought-provoking illuminations. You can also expect to see some additional nature-inspired creations that create a dazzling and immersive experience; which bring light to the landscape and encourage the viewer to . . ."transform the act of looking into a physical experience - where audiences frequently find themselves immersed in a sensational play of light and colour as the space metamorphoses into something unique and magical."  - Ulf Pedersen
Often architectural in scale, Ulf works closely with raw materials of the site, using light and colour as his essential tools, often combining these natural elements with new architectural forms he has designed. Ulf's practice exploits both hi and lo-fi technologies and aims to highlight the poetic potential of the place.
"I'm very excited to be creating back in Heligan; the gardens are quite unique in that they offer very intimate spaces which I like to term as 'rooms', particularly under the canopy of the rhododendron. Each 'room' allows me to transport the audience into a different environment from the last whilst keeping an overall subtle lighting theme. With virtually nil light pollution, one can use minimal lighting which is when the magic occurs." – Ulf Pedersen
LysArp piece was positioned centrally in Heligan Gardens (in the vegetable garden) rigged to a 50m apple arch. Ulf hung 8 Minirigs along its the length in hessian sacks, with the 2 subs in a wooden enclosure at ground level to amplify the sound. It's the first time he's used the smaller speakers on this installation; "the sound resonated across the whole gardens - it really was a wonderful vibe." – Ulf Pedersen  
Over 15 years Ulf has travelled internationally bringing his work to locations including Australia, New Zealand, Hong Kong, Iceland and The Faroes. At home, he has worked in Oxford, Durham and Edinburgh Botanical Gardens and with numerous National Trust locations. Pedersen says: "These shows have attracted tens of thousands of visitors and given me great experience of bringing, small-scale, human experiences to large-scale artistic interventions."
Click here to see Ulf's gorgeous portfolio. 
Check out the lovely venue
here
.