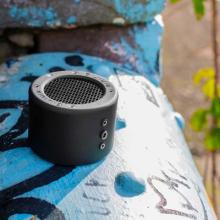 Check out this wonderfully detailed review from Buy Me Once, a company supporting products that are made to last and that challenge the modern day throw away culture!
Here's the final verdict: 
There are a lot of reasons to love the Minirig 3. The sound quality is outstanding, the battery is insane and they're tough. They're small enough to throw in your bag and take everywhere, so that you're spared from listening to someone else's shoddy speaker.
Looking at the wider market of portable speakers, the Minirig 3 - and the Minirig Mini, too - come best in class within their price range. If you're looking for really detailed, high-definition sound, you could pay more and do a little better with another brand. However, the speaker will be chunkier, and it won't have anything near this kind of battery life.
What's more, these speakers are properly built to last, and can also be repaired and upgraded indefinitely. This means they'll give you outstanding value for money over the course of many years. This is going against the grain of disposable tech - most companies actively discourage repair, encouraging you to buy their shiniest new model instead.
Minirig speakers were designed by a passionate team of DJs and producers, and in these circles, Minirigs are known to be the best. There aren't a lot of people making tech products in the UK, and these speakers represent a gold standard of manufacturing that comes from keeping everything under one roof. 
If you're looking for high-quality portable sound, the Minirig 3 will surpass your expectations. And if you want a bit of kit that will last? Well, there's a reason Buy Me Once has been selling them for years.
Full review can be found HERE