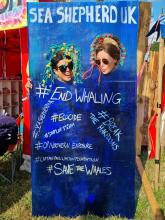 Glastonbury, a renowned music and arts festival, has always been a hub for creativity, activism, and positive change. This year Sea Shepherd UK transformed a dedicated space into an interactive exhibit called "The Whale Project." This unique installation created by
Edith Morris
from recycled plastics and nautical equipment provided festivalgoers with an immersive experience, aiming to educate and inspire visitors to take action to protect the oceans and its inhabitants. Minirig helped 
Cosmo Sheldrake
and
Tom Mustill
bring the Orca to life through unique soundscapes and whale song bath, by installing Minirigs inside the Orca and Bouys around the stall. The Whale Project showcased the beauty of whales, their importance in marine ecosystems, and the threats they face from whaling, plastic pollution, and climate change. 
In addition to this was the Ghost Gear Hangout run by volunteers
Luke Bullus
and
Elle Spears
. Ghost gear has dire consequences for marine animals. Every year, over 150,000 whales, dolphins, seals, and at least 200,000 sea birds fall victim to entanglement and death caused by this lethal waste. The need to address this issue and mitigate its impact is urgent. Sea Shepherd UK's Dive and Marine Debris campaign team volunteers dedicate their weekends to removing ghost gear from the seabed, underwater wrecks, and beaches - some of which went into creating Edith's Orca! Their tireless efforts aim to protect marine wildlife and prevent further harm caused by entanglement and ingestion of this hazardous debris. 
Sea Shepherd UK's partnership with Minirigs at Glastonbury 2023 showcased the incredible potential for music, art, and environmentalism to unite for a common cause. None of this would have been possible without the tireless efforts and organisation of
Helen Taylor
from
One Blue Marble
 and 
Abi Kidd
, the signage by
Aidy Brooks
and of course the funding from Minrigs' very own
Tom Tucker
and
David Trotter
. The collective efforts of everyone involved underscore the importance of advocacy and problem-solving in safeguarding marine life for future generations.
'Sea Shepherd UK' is in the process of rebranding and changing their name to the 'Captain Paul Watson Foundation UK'. You can read the press release about the name change
here
.
If you would like to support any of their campaigns then please use this 
DONATE
 link! 
Edith Morris - An Orca For Sea Shepherd 
Keys collaborators: