If you are having trouble connecting Minirigs in wireless stereo, the most common cause is that one of the Minirigs already has 2 devices connected to it (eg two phones) so is unable to accept a third connection to another Minirig. Check for any laptops, tablets or phones which may be turned on and connected. Disconnect them and try again. 
If you are still having trouble, the sure way to resolve it is to reset both devices and start fresh. 
Follow these steps: 
Reset both Minirigs, make sure you follow all instructions on this page. 
Turn both Minirigs ON, then pair and connect to ONE of the Minirigs only with your device. 
Double press the button on this Minirig as per the wireless stereo pairing guide. 
Alternatively, open the Minirig app and press the wireless stereo pairing button (two round circles next to each other). 
If the Minirigs are connecting but you are having sound issues, follow the steps on this page. 
If you still can't connect, read the following note regarding Bluetooth software versions before contacting Minirig support. 
Bluetooth software versions
New MRBT2 Minirigs ship with updated V2 Bluetooth software, which brings improved wireless stereo pairing and stability. Unfortunately, this new Bluetooth software is not compatible with V1 Bluetooth Minirigs (pre-March 2017) in wireless stereo mode. 
However, you can still connect them together in aux mode for stereo sound. 
Alternatively, MRBT2 Minirigs can be shipped with V1 Bluetooth software on request to make them compatible with your existing V1 Bluetooth Minirig. If you would to do this please contact us.
If you are unsure which Bluetooth software is running on your Minirig, you can check the software version using the Minirig app. Connect then open the app and press the "INFO" button.
Minirigs with V1 Bluetooth software will look something like this:
"MINIRIG V 3H9 5.7.6"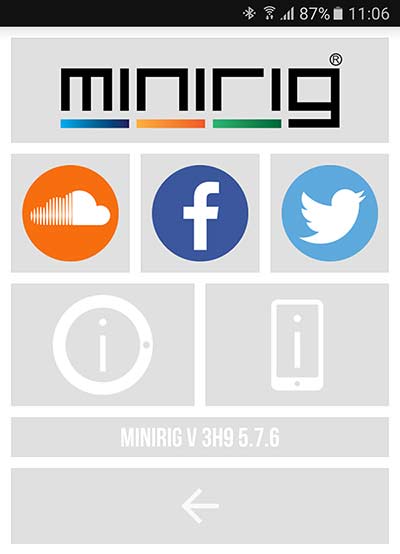 Minirigs with V2 Bluetooth software will look something like this:
"MINIRIG V 5L03 6.0.52 US"
"03_MRBT2_090317"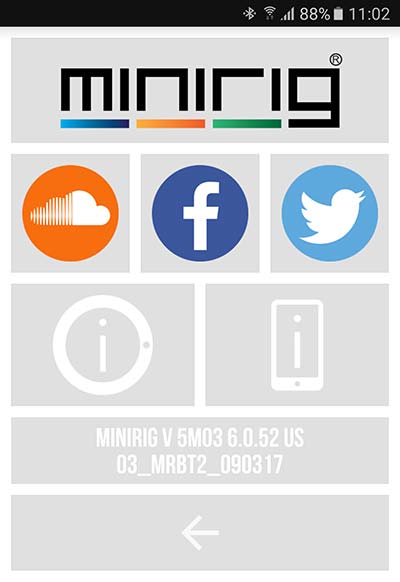 The Bluetooth version is highlighted in bold. 5 = V1 and 6 = V2.